Previous Page
Century Laguna 16
9349 Big Horn Boulevard, Elk Grove, CA 95758
Movieline: 1-(800)-FAN-DANG
Website: http://www.cinemark.com
Bolshoi Ballet: La Sylphide (NR)
Runtime: 2 hr. 0 mins.

Staged for the Bolshoi by Bournonville expert Johan Kobborg, La Sylphide is the ultimate romantic masterpiece. Captured live from the Bolshoi Ballet in Moscow, La Sylphide comes to cinemas across the U.S. on Sunday, Nov. 11 only. On his wedding day, the young Scotsman James is awakened with a kiss from an ethereal winged creature, a Sylph. Entranced by her beauty, James risks everything to pursue an unattainable love. La Sylphide is one of the world's oldest surviving ballets, and a treasure in Danish ballet master August Bournonville's style.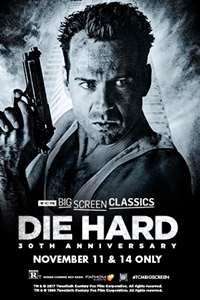 Die Hard 30th Anniversary (1988) presented by TCM ()
Runtime: 2 hr. 20 mins.

Fathom Events, Turner Classic Movies and Twentieth Century Fox are celebrating the 30th anniversary of Die Hard and bringing the iconic movie to select cinemas nationwide for a special two-day event, which also includes specially produced commentary from Turner Classic Movies. New York City Detective John McClane becomes the only hope for a small group of hostages, trapped in a Los Angeles high-rise office building when it is seized by terrorists on Christmas Eve.
Digital Cinema Luxury LoungerReserved